Nov
7
Sat
Southwark Pentecost Prayer Tower
Nov 7 @ 9:00 am – 10:15 am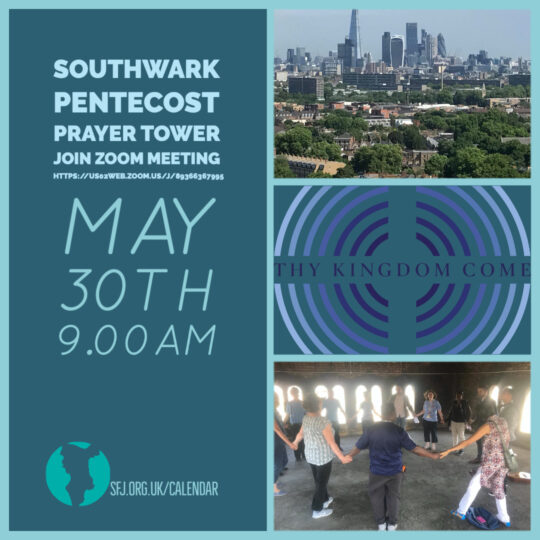 Southwark Pentecost Prayer Tower is ONLINE! We will host a prayer event for Southwark online for an hour.  All you need is a device fitted with a camera and microphone and internet connection.  We will worship, climb a virtual tower, listen to the Lord as we take in views of Southwark from the Salvation Army Tower, and pray for our communities.
To join in this (zoom) meeting online simply press the link here at 9.00am on Saturday 30th and you will be connected to the meeting. If you wish to download the zoom application, it's free to use and great for short meetings like this.
Prayer Tower happens three times a year up the tower at the Salvation Army Training College. Prayer Towers are the ultimate south London 'prayer meeting with a view'.
Worship and prayer for our boroughs, and a chance to collate what we are hearing from Heaven for the next season.
Email us for more details.
Nov
12
Thu
SFJ & TS Prayer Fellowship Breakfast
Nov 12 @ 9:00 am – 11:00 am
This event will take place ONLINE unless further notified
Join us for breakfast, prayer and fellowship as we share what is happening across the church in Southwark. An opportunity to network and pray with church leaders, charity leaders, CEO's and council members. Eventbrite booking available.
This time we are privileged to have Open Doors director Eddie Lyle speaking to us about how the global church is faring, and in particular those who are persecuted for their faith. In many parts of the world Christians are arrested, interrogated, pressured to recant or to commit to refrain from meeting other Christians or engaging in Christian activities. Many receive prison sentences or see their sentences upheld by appeals courts. Other lose their lives as persecutions turn violent. Eddie will bring inspiration and insight as he shares stories of how believers are responding with courage and grace under great pressure.